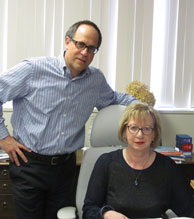 About Us
Kalli Management Ltd. was formed in November 1999 by Nuala Kelly and Gerald Weiss. Our company provides comprehensive design build solutions for commercial spaces and provides property and facility management to companies across North America.
Our goal is to provide quality and value to our clients. Our team knows regulatory requirements, how much things should cost, if they're being done well. When we're on the job, suppliers know they can't cut corners or overprice. So you get a job well done at a price that you know is fair.
Our established relationships with furniture and flooring manufacturers mean we get significant discounts, which we pass on to you. Kalli Management has preferred pricing from many service providers in areas including HVAC and electrical, and with manufacturers including carpeting & flooring (Mohawk, Patcraft), furniture (excellent pricing & free shipping), porcelain tile (Olympia) and lighting.
We're hands-on. Count on us to be right in there with the trades on the job site, keeping tabs on quality and schedule.
We keep everything on track. Putting together a new office requires a lot of different elements to come together seamlessly. The process is a lot more complicated than just hiring an architect and a builder. We bring all of those confusing elements together .
Details are everything. We know regulatory requirements because we have a solid background in our field; whatever your industry or staff needs, we've got you covered in terms of compliance.